New York, June 21, 2023 – Today, beloved global entertainment brand, Superplastic – the home of synthetic celebrities Janky & Guggimon – celebrates a special high point of its brand partnership with Mercedes-Benz, one of the world's largest manufacturers of luxury passenger cars. The two brands have geared up for their next adventure with a limited-edition capsule collection and a VIP event at the Superplastic flagship store in New York City's SoHo district. The event honors Superdackel, the newest friend of the Superplastic universe, and coincides with "World Dachshund Day."
The two brands debuted their unexpected partnership in January at CES 2023. That's where fans got their first introduction to Superdackel, the modern reinvention of the "Wackeldackel" – the somewhat staid, nodding-dog toy that has graced the dashboards and hearts of generations of drivers around the globe. The Las Vegas show also saw the premiere of the animated short film "Road Tripz – Starring Janky, Guggimon & Superdackel," merging the physical world of Mercedes-Benz with the digital universe of Superplastic. The short features a fast-paced joyride through NYC, with the typical Janky & Guggimon hijinks and a cosmic space whale. It's created an unforgettable experience for fans, new and old. Mixed in Dolby Atmos, the animation has also been integrated into the MBUX
Superscreen, the heart of the interior in the freshly reinterpreted Mercedes-Benz E-Class, which had its world premiere in April. As the E-Class has evolved, so has Superdackel – from a physical dashboard toy to the ultimate digital road trip companion.
Just like the original Wackeldackel, the Mercedes-Benz E-Class is an automotive icon – it's the best-selling series model in the carmaker's history and has been a customer favorite for over seven decades. Mercedes-Benz has transformed this legend to fit how people use their cars today – more digital and personal than ever before. That includes its high-end Burmester® 4D Surround Sound system with Dolby Atmos that makes entertainment streaming (from Superplastic, of course!) an immersive experience. Mercedes-Benz has given the E-Class a unique "welcome home" feeling and exceptional digital intelligence. Its interior is packed with cutting-edge technology and modern design that serve one purpose: adapting to customers' needs and unique preferences.
The Event
Mercedes-Benz and Superplastic are hosting an exclusive launch event on June 21 at the Superplastic flagship store in SoHo, NYC, where the full Superdackel collection will be available for purchase. The event will celebrate the partnership with an immersive gallery space and jaw-dropping full-screen animations of the short film. Guests will be greeted by the giant, 8.2-foot (2.5-meter) Superdackel sculpture, which also debuted at the CES. "The opportunity to bring Superdackel to life with Mercedes-Benz has transcended realms and possibilities in our digital universe as such an iconic moment. Janky & Guggimon are stoked to have a new partner in crime, and we'll certainly be picking up the pieces in the wake of the chaos left behind."
Galen McKamy, Chief Creative Officer of Superplastic
"It has been a high-energy and fully joyful experience working with the Superplastic team to reimagine the iconic Wackeldackel and bring Superdackel to life through this toy and apparel collection. People around the world love to add their own personal touch to their cars, even in the digital era." Julia Hofmann, Head of Branded Entertainment & Brand Partnerships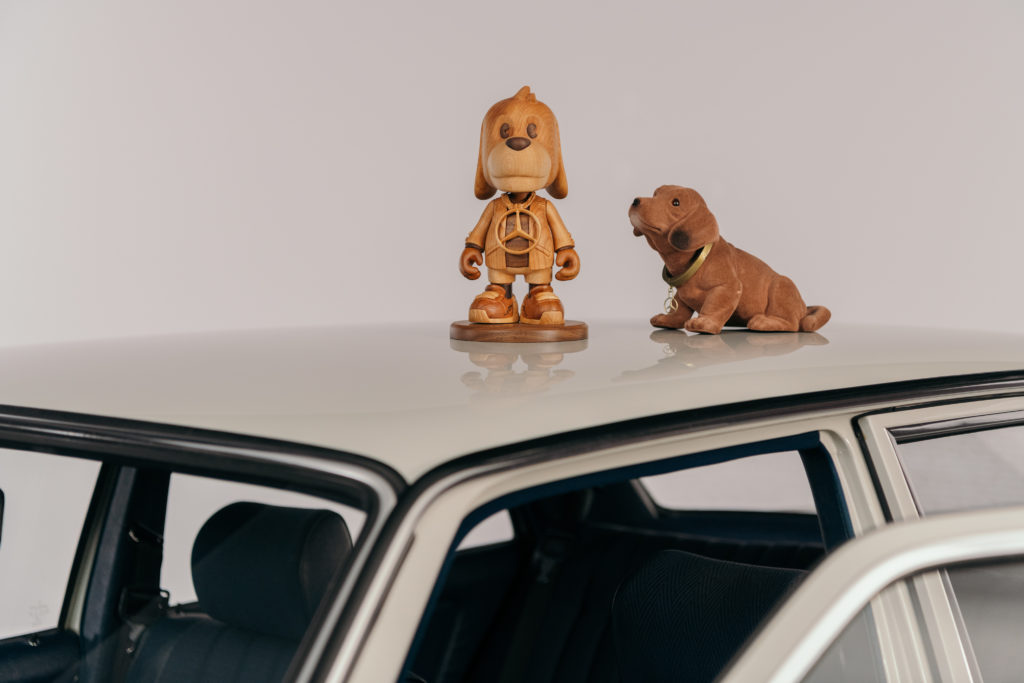 The Collection
The heart of the collection is a special-edition, 12-inch (approx. 30.4-centimeter) handcrafted Superdackel figure sculpted in the U.S. from 100% cherry, maple, walnut, and alder wood and styled with the iconic Mercedes-Benz emblem. The Superdackel sculpture symbolizes how Mercedes-Benz and Superplastic are fusing the luxury automotive and digital creative worlds. This one-of-a-kind piece is limited to only 65 made and includes a small base for display and a custom Baltic birch box – making it a must-have collectible for art, design, and car enthusiasts alike.
Additionally, the exclusive partnership features a premium capsule of apparel including luxe accessories.
The products utilize materials from the U.S., aligned with both brands' mission of net carbon-neutrality and commitment to economic, environmental, and social responsibility towards climate protection and air pollution control.
Key Product Information:
Wooden Superdackel figure
● The Superdackel is a reimagined, old-school Wackeldackel nodding-head dog with a new, improved, and effortlessly cool vibe! A fresh take on a classic favorite made of wood from the U.S. Limited Retail of 65 pieces, numbered. Hoodie, t-shirt & hat
● Made from 100% organic cotton, the Mercedes-Benz x Superplastic hoodie features the iconic Superdackel Logo Scarf
● Made from 100% silk, the Mercedes-Benz x Superplastic scarf features an eye-catching checker pattern and the iconic Superdackel logo. Dog Collar
● The Mercedes-Benz x Superplastic collar comes in size S (neck size 31-37 cm) and M (neck size 39-45cm) featuring the iconic Superdackel logo to accessorize canine co-pilots everywhere. The limited-edition merchandise capsule is available online at Superplastic.co and at Superplastic's NYC retail store at 15 Prince St, New York, NY 10012 til June 26th 2023.
About Superplastic:
Superplastic is a Vermont-based character design studio that creates synthetic celebrities with millions of followers worldwide and who appear in social media, music, gaming, high-end collectibles, fashion, animated entertainment, web3, and live experiences. The company sells tens of millions of dollars in real and virtual products annually, and has collaborated with Gucci, Fortnite, Mercedes-Benz, Tommy Hilfiger, Christie's Auction House, J. Balvin, Kidsuper, Pusha-T, Paris Hilton, Post Malone, The Weeknd, Vince Staples, Rico Nasty, and more Mercedes-Benz Cultural Engagement: Through its cultural activities and design cooperations, Mercedes-Benz highlights best practices, aligning with creatives that reflect and champion values such as outstanding and responsible design, creativity, and innovation. The luxury automotive company is active across global markets and has launched initiatives with some of the most relevant names across industries including music, art and fashion, unlocking the world of Mercedes-Benz as a platform to encounter and communicate with creative pioneers in their fields of excellence.